It took my awhile to compile this list. Sadly there are many MLB legends that all juiced up so coming up with a lineup of legends was pretty hard.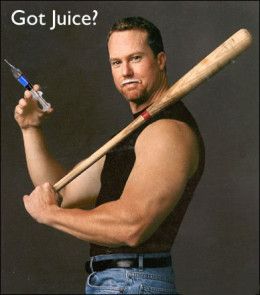 SP – Roger Clemens
One of my least favorite MLB players of all time. I loved how Roger Clemens denied steroid use about 1000 times before finally admitting it. One of the most obvious HGH cases in the history of baseball. Clemens was 45 and still winning 20 games a season, no doubt he was on steroids.
CP – John Rocker
This Atlanta Braves hurler used to cause nightmares for New York Mets fans not because of what a great reliever he was but the fact that he or a Mets fan always did something chaotic every time he came to New York. It was always an electric atmosphere when he would run out of the bullpen at Shea Stadium. I'll never forget the time a fan jumped onto the field in LA and mooned John Rocker. Chaos. Oh yeah by the way he also juiced up.
LF – Barry Bonds
Barry was one of the most clutch hitters I have ever witnessed, incredible how he could jack a homer out pretty much whenever he wanted. Too bad he juiced up. I love how Barry is the hitting coach for the Marlins now. Definitely has to be encouraging steroid use from Giancarlo Stanton and Marcell Ozuna. Dee Gordon already got caught, I blame Bonds.
DH- Jose Canseco
Canseco straight out of Cuba was one of the craziest people to ever put on a MLB jersey. Just google Jose Canseco crazy and you'll find stories that will make you laugh for hours. Unreal stuff this guy did on top of taking steroids. My personal favorite crazy story Canseco ever told was saying he ran the 40 in 3.9 seconds. It's impossible bro just like you acting like a normal human being for more than 30 seconds.
1B- Mark McGwire
McGwire has one of the greatest nicknames in sports…Big Mac…Everyone loves a ginger who can smack 60 home runs a year except when that red head is on steroids. McGwire is still involved in the game much like Bonds most likely encouraging steroid use from the San Diego Padres players.
RF – Sammy Sosa
Slammin Sammy always was a fun guy to watch. He had a great baseball name too. I use to have a Sammy Sosa poster in my room because I was just a fan of his name alone. Sosa had a great career and has to give George W. Bush depression every night. The biggest mistake Bush ever made was trading Sosa to the Cubbies. Sammy, great player. Cubs, bad organization. #AnyoneButTheCubs
CF – Manny Ramirez
Manny just seems like the classic MLB bad guy. If he is on your team then you love him but if he isn't you hate the guy. Ramirez had some great moments in the Red Sox organization with David Ortiz still one of the best 3-4 hitters I've ever seen. Ramirez already admitted to steroids will Ortiz be next?
C – Ivan Rodriguez
I spent most of my childhood bashing this guy because everyone always said that he was the best catcher in the MLB. Nothing used to trigger me more than hearing that Pudge was better than Piazza. That's absolute chaos one was a steroid user the other unified America with bashing a two run dinger against the Braves after 9/11. Getting back to Pudge he had a great career and brought a second title to Miami and basically resurrected the Detroit Tigers who were irrelevant for over 20 years.
2B- Dee Gordon
As I said earlier definitely blame Barry Bonds for Dee Gordon taking steroids. Up came Dee Gordon from AAA a good guy with a bright future but here comes Barry wanting to ruin someone else's legacy. My advice to you Dee leave Miami and stay away from Barry.
SS- Miguel Tejada
Miguel Tejada took steroids and was a good player. Don't really have much to say about Miguel, a pretty boring athlete in my opinion. I did enjoy watching the Tejada/Mora infield with the Orioles but that was because I was a Melvin Mora fan. Needed a shortstop so it was either Tejada or Johnny Peralta. I chose Tejada.
3B – Alex Rodriguez
I never had anything against Alex Rodriguez. Yeah he took steroids which is terrible but the guy got a lot of unnecessary hate especially from the New York Yankee fans. Everyone's favorite A-Roid moment had to be when he got beat up by Jason Varitek. Great fight, wish we saw more like that in the MLB today. Congrats on the great career A-Roid have fun in retirement.
-The Rabbi